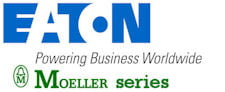 For almost every industrial sensing requirement, Eaton's Electrical Sector is now offering dependable, easy-to-use and cost-effective solutions. The company's latest range of sensing products is exceptionally comprehensive and includes not only inductive sensors with cylindrical and square housings, but also capacitive sensors, an extensive family of optical sensors, and mechanical limit switches with plastic and metal bodies.
Eaton has also published a new brochure detailing its sensor products, entitled 'Versatility in the Range -Flexible, Robust, Innovative', which is available free on request or can be downloaded instantly from the Eaton website at (http://www.moeller.net/en/support/related_downloads.jsp?group=dlg_23718).  The publication reference is W1300-7618en.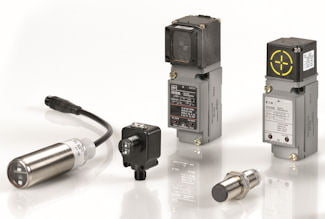 Eaton offers its inductive sensors in five different series. The E52 and E56 series cube and pancake sensors are shock resistant and have an IP66 or better ingress protection rating, making them ideal for use in tough environments. Global series cylindrical sensors for standard applications are available in M8, M12, M18 and M30 versions and are offered in both ac and dc versions, while for applications demanding extra performance, Eaton supplies iProx and E57Premium+ inductive sensors.
Available with stainless steel housings from 4 mm to 30 mm in diameter, iProx and E57Premium+ sensors feature enhanced noise immunity, and a 360º LED visible from any angle for output status indication. In addition, users of the innovative iProx types can access extra functions with a simple programming tool. This includes adjusting both the sensing band and noise immunity, converting from Normally Open to Normally Closed, and even applying time delays and simple logic functions. The iProx software contains an extensive database of competitor models and enables those looking for replacement sensors to clone iProx to the nearest match.
Eaton optical sensors are also available in cylindrical and cube formats and can be supplied in versions for through-beam, polarised reflex and diffuse reflective applications. Over 30 models in the range include Perfect Prox technology, which provides effective background rejection that's easy to set up. In addition, cube format models in the SM series feature the microprocessor-controlled TargetLock system that ensures fast set up and optimum performance whatever the application.
Capacitive sensors from Eaton are primarily intended for the detection of non-metallic targets, including liquids and granulated or powdered materials. They are offered in plastic-bodied cylindrical versions, and can be supplied for use with either ac or dc supplies.
For applications where conventional mechanical limit switch sensing is preferred, Eaton offers two versatile product ranges. LS-Titan limit switches are available with either metal or plastic bodies and feature interchangeable heads for maximum versatility, while the rugged Global E50 products feature a rugged design that makes them ideal for heavy-duty use.
Sealed effectively against the ingress of dust and liquids, including cleaning agents, lubricants, cutting oils and coolants, Global E50 limit switches can be supplied with pressure or rotary-function heads, and are complemented by a large variety of optional operating rods and levers.
.
Enquiry Form: http://www.epreston.co.uk/enquiries.php
Home Page: http://www.epreston.co.uk/epblog/