Robust, Instant Connections for Harsh Environments
6000 Series Buccaneer – circular connectors that combine the ease of use of a push/pull coupling mechanism with proven environmental sealing. Available with metal or plastic bodies, the range supports Ethernet and USB data interfaces.
Designed and independently tested to IP66, IP68 & IP69K standards, they are ideal for applications where ingress of dust and water must be avoided and where ease of connection, space and appearance are important considerations.
For Data — Ethernet
Thermo-Plastic & Metal Versions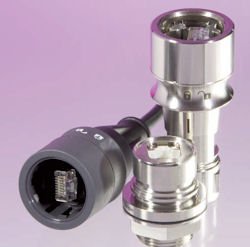 CLICK HERE FOR BROCHURE —>  Bulgin 6000 Series Buccaneer for Data Ethernet
* Push-pull locking system – Secure, instant locking. Quick connector mating and release
* 30° twist locking – Prevents accidental un-mating
* IP66, IP68 and IP69K when mated – Suitable for a wide range of dust and water borne environments
* Independent sealing tests – IP Ratings independently verified
* Cat 5e compliant – Data rate up to 100MHz
* PUR jacket on cable – Good chemical resistance, flame retardan
* Shielded system – High noise immunity and EMI protection
* Cat 5e shielded coupler – Maintains shielding
* Visual mating indication – Alignment indicator reduces risk of damage during mating
* Rewireable flex connector – Ability to 'field' terminate
* Earth lead version of panel adaptor on plastic connector – Continuous screening of panel mount connector
* Metal connector grounded to cable screen – Continuous screening of panel mount connector
* Sealed through panel Ethernet – Prevent water ingress into equipment
6000 Series Buccaneer – specially designed for a broad range of harsh environment applications, including:
* Industrial Automation – assembly systems, conveyors, factory automation, motion and process control, factory peripherals, industrial computers, industrial controllers, testing, measurement and inspection equipment, vision systems
* Lighting – temporary lighting, external illumination, signage, architectural lighting
* Food Processing – feeding and packaging, weighing, inspection, testing, printing equipment
* Materials Handling – automatic or manual lifts, table lifts, weighing, inspection equipment
* Transportation – special vehicles, GPS location systems, control equipment, traffic control
* Marine – lighting, control wiring and navigation equipment
* Security – alarm beacons, CCTV, detection systems
* Networking – LAN and wireless equipments
* Renewable energy – solar inverters
.
Enquiry Form: http://www.epreston.co.uk/enquiries.php
Home Page: http://www.epreston.co.uk/epblog/