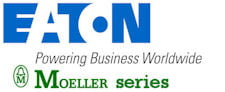 Eaton Moeller, one of the leading manufacturers of components and systems for electrical engineering and automation, is now offering a new gateway for SmartWire-DT in order to connect to Ethernet IP and Modbus TCP: The innovative SmartWire-DT communication system for networking control circuit and switching devices can now also be connected to controllers via an Ethernet/IP or Modbus-TCP network. The SWD-Assist planning and commissioning software is available for download free of charge from (www.moeller.net ).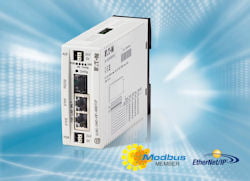 This is made possible thanks to the new EU5C-SWD-EIP-MODTCP SmartWire-DT gateway which comes with a 10/100MBit switch and simplifies the configuration of linear structures. The additional diagnostics interface simplifies commissioning and helps users with any troubleshooting. The powerful SWD-Assist planning and commissioning software enables users to configure the SmartWire-DT network easily. The online function of the SWD-Assist in particular enables the first test of the switchboard installation to be carried without having to install a PLC. All inputs and outputs of the SmartWire-DT slaves can be exported simply and used in the PLC configurator of the controller manufacturer used (e.g. RSLogix 5000).
The software developed by Eaton Moeller for SmartWire-DT simplifies planning and enables the user-friendly testing and commissioning of all switching and control circuit devices. Version 1.40 onwards of SWD-Assist now also allows the configuration of the new EU5C-SWD-EIP-MODTCP gateway. The Ethernet IP / Modbus-TCP gateway enables an Ethernet-based connection to the SmartWire-DT system for the first time, so that Eaton Moeller is covering important fieldbus systems for commonly used controllers.
.
Enquiry Form: http://www.epreston.co.uk/enquiries.php
Home Page: http://www.epreston.co.uk/epblog/