Schurter provides a broad range of cord sets. For a better overview Schurter has consolidated its assortment to include a variety of frequently requested standard types.  European and US cord sets, including the hospital grade version, are now available throughout the Schurter group at competitive prices.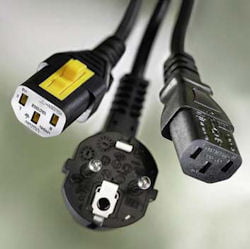 With the 30 newly defined standard cord sets Schurter offers its customers a better product overview, prompt availability and best prices. Variety and choice are not compromised since customized solutions will continue to be offered on request depending on order quantity.
Included in the standard range is the successfully launched V-Lock cord retaining solution.  The system prevents the cord from being pulled out of the socket unintentionally. Various different connectors, power entry modules and several country-specific power cables are available with this option.
Schurter's cord sets meet international safety standards. Available current ratings range from 2.5 amps to 16 amps.
.
Enquiry Form: http://www.epreston.co.uk/enquiries.php
Home Page: http://www.epreston.co.uk/epblog/