Schurter presents – the Transipillars – for rugged and insulated board-to-board and board-to-chassis mounting, consisting of stud & insert in varying nylon body sizes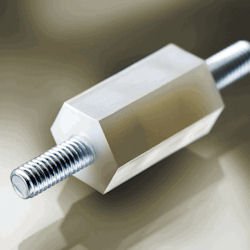 Transipillars are spacers known for providing a rugged insulating mounting system, consisting of studs and inserts with a nylon body. The combination of various lengths and metric threads allows a versatile use of the Transipillars. The parts are available in various sizes as stud / stud version, stud and insert or insert / insert combinations in cylindrical or hexagonal form. Customized versions are available on request.
* Material: stud threads steel zinc plated, insert threads plain brass, body nylon 66
* Dielectric strength > 11k VDC
* Insulation resistance > 10'000 M @ 500 VDC (min thickness 1 mm)
* Operating temperature -20 °C to +80 °C
* Various combinations of thread sizes, lengths and forms
* High mechanical strength
.
Enquiry Form: http://www.epreston.co.uk/enquiries.php
Home Page: http://www.epreston.co.uk/epblog/