Crydom are pleased to announce the availability of the new Selector for AC Motors which has been developed to support the application of Solid State Relays (SSRs) and Solid State Contactors (SSCs) into the AC Motors market segment.  Intended to assist in matching a SSR or SSC to single-phase and three-phase motors, this web based tool is focused on using relevant ratings from the motor load to select a Crydom part number with suitable UL ratings.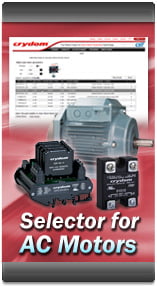 Click on the Link below to access "Selector for AC Motors"
http://www.crydom.com/en/Products/Selector_Motor.shtml
Features of the Selector for AC Motors include:
* Navigation through the tool using intuitive menus
* A list of selected Crydom part numbers is suggested after entering Operating Voltage and Horse Power Ratings for the motor under application
* Links to view datasheets for listed part numbers
* Links to check available Distributors' stock for listed part numbers
* Option to print out listed part numbers
* Option to "copy and paste" listed part numbers
The Selector for AC Motors is a web based tool and it is currently available at the Crydom website under the Products menu.  It is important to notice that all part numbers given by the selector are considered as active, no legacy or obsolete parts are included.  Moreover, only part numbers bearing UL 508 approved ratings as Motor Controllers are included.
.
Enquiry Form: http://www.epreston.co.uk/enquiries.php
Home Page: http://www.epreston.co.uk/epblog/