Allows One Sensor Port to Be Used with Condensing Humidity or Directly with Non-corrosive Liquid Media
Honeywell introduced a single side liquid media option to its extensive line of TruStability® Pressure Sensors originally introduced in July 2009. The new single side liquid media option allows customers to use one port of the sensor with condensing humidity or non-corrosive liquid media, such as de-ionized water, eliminating the complexity and expense of having to protect the sensor from this type of media. Honeywell has developed this option because of the many applications where condensing humidity conditions exist or where liquid media is the desired media to be measured. Until now, Honeywell's TruStability® Pressure Sensors have been intended for use with non-corrosive, non-ionic working fluids such as air and dry gases.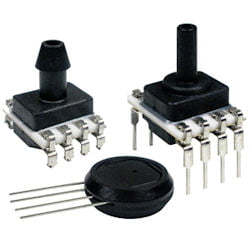 The TruStability® Pressure Sensor product line is comprised of the HSC (High Accuracy Silicon Ceramic) Series and the SSC (Standard Accuracy Silicon Ceramic) Series that offer customers three key benefits not found in other pressure sensors currently available:
* Industry-leading stability helps prevent drift over time or from temperature and humidity extremes; often eliminates the customer's need to calibrate after mounting to the printed circuit board (PCB), and also the need for the end-user to calibrate the device;
* Temperature compensated and calibrated, providing an extremely tight accuracy specification;
* Modular and flexible design offers a wide variety of package styles and options, all with the same industry-leading performance specifications.
.
The HSC Series is designed to provide an industry-leading ±1% total error band specification, compensated across a 0 °C to 50 °C [32 °F to 122 °F] temperature range. The SSC Series is designed to provide a ±2% total error band specification, compensated across a wider -20 °C to 85 °C [-4 °F to 185 °F] temperature range.
The HSC and SSC Series' footprint is very small in comparison to most silicon pressure sensors, including the current Honeywell portfolio. Despite their small size, they are temperature compensated, calibrated, and provide an amplified signal, typically allowing the customer to remove the components associated with signal conditioning from the PCB to increase space and reduce costs often associated with those components (e.g., acquisition, inventory, assembly). This integrated capability often eliminates problems that could occur from having multiple signal conditioning components across the PCB.
Both series offer the option of analog or digital outputs. Digital ASIC output in either I2C or SPI protocols from digital sensors accelerates performance through reduced conversion requirements and the convenience of direct interface to microprocessors or microcontrollers. Custom calibration ranges, output options, power options (3.3 Vdc or 5.0 Vdc), pressure types (absolute, differential, gage, compound), pressure ranges (1 psi to 150 psi), a wide array of mounting options (lead through SIP, DIP, and surface mount technology), and multiple package options provide support for many unique applications. They are designed to provide digital correction of sensor offset, sensitivity, temperature coefficients, and non-linearity.
Potential medical applications include airflow monitors, gas flow instrumentation, hospital diagnostics (gas chromatography, blood analysis machines), kidney dialysis machines, oxygen concentrators, pneumatic controls, respiratory devices/machines (ventilators, anesthesia machines, patient monitoring), and sleep apnea equipment. Potential industrial applications include barometry, flow calibrators, gas chromatography, gas flow instrumentation, HVAC, life sciences and pneumatic controls.
.
Enquiry Form: http://www.epreston.co.uk/enquiries.php
Home Page: http://www.epreston.co.uk/epblog/