The FN5040/45 sinusoidal output filters reduce the extra losses in AC motors and help to prevent premature failures and expensive downtimes. They are precisely matched to the technical requirements of modern drive systems and are particularly impressive when used with long motor cables.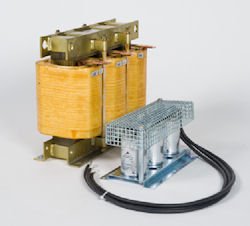 With the introduction of the FN5040/45, Schaffner, the international leader in the fields of electromagnetic compatibility and power quality, is further expanding its range of products for improving reliability in motor drive technology. The new sinusoidal output filters smooth the modulated output voltage of modern drives and provide the motor with a clean sinusoidal voltage with low residual ripple. This largely prevents premature ageing or destruction of the AC motor due to high dv/dt, over-voltages, bearing currents or overheating due to extra losses. Expensive downtimes are avoided, and premature service or repair is eliminated.
The new filters are available in a compact open frame design (FN5040) or as a user-friendly packaged version (FN5045 – IP20). The cable-shield support brackets integrated into the housing facilitates work for the installer and favours savings of installation time and costs. Easily understood application instructions allow it to be safely used even beyond standard specifications, for motor frequencies up to 200 Hz or motor cable lengths up 2000 meters. Both models are designed for rated currents of 4.5 to 1200 A and for networks up to 3x 500 VAC (+/- 10%). The UL listing is currently in preparation.
Applications in building technology (pumps, fans, HVAC) benefit equally from the use of the new sinusoidal filter, as do industrial applications with very long motor cables or with several motors connected in parallel.
.
Enquiry Form: http://www.epreston.co.uk/enquiries.php
Home Page: http://www.epreston.co.uk/epblog/