The diversified appliance couplers from SCHURTER are successfully in use throughout the world. This product portfolio has been widened through the series 5001 of panel mounting appliance outlet, specially developed for printed circuit board mounting. Mounting onto PCB's provides the user with high cost effectiveness.
The series 5001 is available in protection classes I (3 pole) and II (2 pole). The earthing contact (arrangement in protection class I) is provided with an additional terminal for connecting the appliances chassis directly at the power input.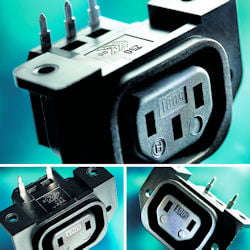 The 5001 housing is made from polyamide PA6 / UL 94V-0. Current carrying parts are made from a copper alloy. The pins are nickel plated and the connections tinned. In the standard arrangement of the 5001, 4 fixing holes are available for mounting. Fixture onto a panel or PCB takes place with screws or rivets.
A special arrangement with snap rivets is also available for PCB mounting.
The 5001 appliance complies with standards IEC60320 / EN 60320 / VDE 0625.
Approvals:
– ENEC 05: 10A / 250 Vac
– cCSAus: 15A / 250 Vac
The 5001 appliance outlet is used for mains extensions and is to be found in applications such as power distributors, household devices, entertainment electronics, office communications, medical technology, industrial electronics and automation.
Technical Features:
– Panel mounting appliance outlets IEC 60320 type F and H
– Rated current range: ENEC 10 A, cCSAus 15 A at 250 VAC
.
Home Page: http://www.epreston.co.uk/epblog/