Barely one year after the introduction of ECOsine™ passive harmonic filters, Schaffner presents the digital solution for the efficient reduction of system perturbations: ECOsine™ Active. Latest generation electronics enable an intelligent and adaptive compensation of harmonic currents with a response time of less than 300 microseconds.
With the introduction of ECOsine™ Active, Schaffner, the international leader in the fields of electromagnetic compatibility and power quality, is taking its offering of harmonics mitigation products to the next level. ECOsine™ Active continuously measures and analyzes disturbances in the power network and provides an exactly opposite compensation current. In doing so, the filter actively adapts to changing network topologies and responds in less than half a millisecond.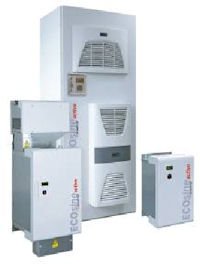 The use of ECOsine™ Active supports the owner in complying with the stringent international harmonics standards as well as with local utility codes. At the same time the electrical infrastructure is unburdened, a potential overheating of transformers, motors, cables etc. is prevented, and the pre-mature wear of electrical equipment is reduced. The improved Power Quality minimizes the risk of downtimes and process interruptions, saves energy and money.
Besides the global or selective mitigation of harmonic currents up to the 50th order ECOsine™ Active is able to perform power factor correction in a targeted manner. In highly dynamic processes like they are found in welding robots, for example, ECOsine™ Active provides the required reactive power within microseconds, faster than traditional automatic cap banks.
ECOsine™ Active is easy to install and intuitive to operate. The compact package of ECOsine™ Active makes its use possible even when space is at a premium. The 50 and 100 Amp filters in IP20 design are ideal for panel integration, so they can, for example, be installed right by the non-linear load. The IP54 rating of the 300A unit provides protection against dust and environmental influences, perfect for harsh industrial applications.
ECOsine™ Active is available in 3-phase/3-wire as well as 3-phase/4-wire configuration for 480V and 400V grids respectively and with rated compensation currents of 30 to 300A. All 3-wire filters are UL listed and therefore ready for the North American market. Building technology and HVAC installations, heavy industry, data and banking centers, UPSs, water/wastewater treatment facilities, or welding equipment can equally benefit from the many advantages of ECOsine™ Active.
.
Enquiry Form: http://www.epreston.co.uk/enquiries.php
Home Page: http://www.epreston.co.uk/epblog/