New feature makes further customization possible
Schurter proudly announces the addition of a colour anodized aluminium housing to the popular line of metal pushbutton switches. The red and green housings can be used to distinguish the start/stop switching functions.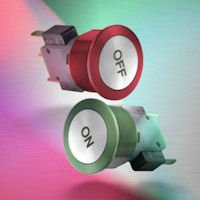 The robust vandal proof switch has an IK07 protection class for high impact and IP67 ingress protection against water and dust. Its low profile flat front construction guards against side impact. The actuator is made of durable stainless steel.
The standard versions of the new MSM color housing are offered in 19 and 22mm mounting diameters with electrical rating of 5A @ 250 VAC. Additionally, custom lettering, other mounting diameters, and colours are available. Versions with switching current and voltage of 100 mA @ 30 VDC, or 10A @ 250 VAC are also available. A version with IP67 rated microswitch provides seal protection from the back. Terminals are quick-connect. Assembly includes pre-wiring of the contact module, which is then snapped onto the actuator housing. Typical applications include controller panels for automated machinery, construction machinery, industrial and medical equipment.
.
Enquiry Form: http://www.epreston.co.uk/enquiries.php
Home Page: http://www.epreston.co.uk/epblog/