Joining Crydom's broad line of Panel Mounted Solid State Relays, the new "EL" series offers AC & DC Outputs in a compact 21 mm wide package featuring imbedded quick connect terminals.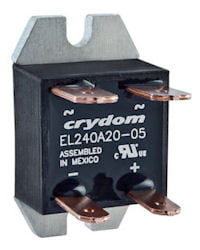 .
Crydom's new "EL" series  of Compact Solid State Relays include models with output ratings up to 20 Arms from 24 to 280 VAC or 10 Adc from 3 to 100 VDC with optional external heat sink.  Logic compatible control input versions include 5, 12 or 24 VDC.  Output termination is via 0.25" (6.35 mm) quick connect terminals, while input terminals are 0.187" (4.75 mm) quick connects.
 
Featuring 4kV all solid state optical isolation, the Triac output AC versions are available with either zero voltage turn-on for resistive load
applications or random turn-on for inductive load applications, while  DC output versions feature low RDS on resistance FETs suitable for most DC resistive or inductive loads. "EL" series SSRs are RoHS & China RoHS compliant, CE certified, UL and cUL recognized.
.
Enquiry Form: http://www.epreston.co.uk/enquiries.php
Home Page: http://www.epreston.co.uk/epblog/