Schurter's IEC C14 inlet with EMI filter, series 5120 ECO design, meets the increasing demands of IT, medical and industrial appliances. The existing panel mount version is now available with flexible wire leads in addition to quick connect and solder terminals. A PCB mount version is also newly introduced. The new configurations provide easy installation, cost savings and maximum performance in a lightweight and environmentally friendly compact package.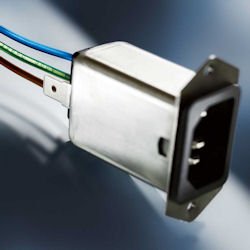 The series combines an IEC C14 or C18 inlet with line filter in various mounting styles. With the addition of the flexible wire and PCB versions SCHURTER has again expanded its range of filtered power entry modules for low and high current applications. The EMI filter is dimensioned as a 1-stage filter for rated currents up to 15 A with a leakage current standard <0.5 mA and medical <5 μA. The positive electrical contact of the broad metal flange to the chassis ensures optimal filtering and shielding.
Mounting options include screw-on, rivet or snap-in mounting. The snap-in mounting style as well as the screw-on version from rear side with its pre-formed threaded holes reduces labor costs. The PCB mount version is available with optional snap feet to safely fasten the unit on the printed circuit board. The flexible wire leads provides pre-assembly for easy and fast installation.
.
The 5120 is designed for use in IT, medical and industrial applications. The series is ENEC and cURus approved and complies with IEC/EN standards for office and medical equipment, 60950 and 60601-1 respectively.
Technical Features:
– Appliance inlet IEC C14 or C18 acc. to 60320 with EMI filter
– Current ratings: up to 10 A at 250 VAC (ENEC/UL/CSA) or 15 A at 125/250 VAC (UL/CSA)
– Screw-on or rivet mounting from front or rear side / Snap-in mounting
– PCB mounting / flexible wire connection / Quick connect terminals / Solder terminals
– Standard or medical version
– Version for enhanced withstand voltage available (X1, Y1)
.
Enquiry Form: http://www.epreston.co.uk/enquiries.php
Home Page: http://www.epreston.co.uk/epblog/