Finder has introduced a pair of solid state relays for silent, high-speed switching of single and 3-phase loads rated at up to 5A.  The 77 Series relays' 300A peak current handling capability makes them particularly suitable for use with high inrush current loads, including electronic starters and igniters for fluorescent and gas discharge lamps.
Two 77 Series relay variants are available:  'zero-crossover', minimising voltage and current stresses to improve reliability and greatly reduce EMI, and 'instant switching', ensuring a consistent time between relay input and output, of importance where simultaneous switching is desirable as in 3-phase switching.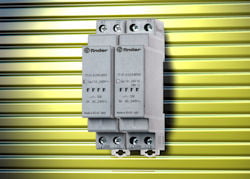 The relays have a single AC output and can be specified with either AC or AC/DC control inputs for added flexibility.  5kV insulation between input and output assures a high level of application safety and security.  Provided in a compact 17.5mm wide housing for 35mm rail mounting, the 77 Series also features an LED operational status indicator and an integral heat sink.
The solid state relay's spark- and bounce-free switching characteristics ensure a virtually infinite electrical life, of particular benefit in high-speed, repetitive applications and in domestic and office environments, where electrical interference needs to be kept to the absolute minimum.
.
Enquiry Form: http://www.epreston.co.uk/enquiries.php
Home Page: http://www.epreston.co.uk/epblog/