Complementing Crydom's extensive offer of Heavy Duty High Power Solid State Relays, the new "CL" series is optimized for lighter duty applications in heating, lighting and motion control.
Crydom's new CL series of AC output Solid State Relays is intended for general purpose use in heating, lighting and motion control applications where panel mounting is desirable but traditional heavy duty SSRs are not required. Rated at either 5 or 10 amps output from 24 to 280 VAC, the CL series features either 3 to 32 VDC or 90 to 250 VAC inputs and includes an LED input status indicator. The CL series is offered in the industry standard panel mount SSR package and is available in either IP00 or IP20 touch safe screw terminal configurations.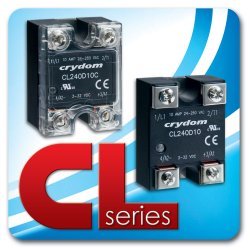 Featuring 4kV all solid state optical isolation with Triac output, the CL series is available with either zero voltage turn-on for resistive load applications or random turn-on for inductive load applications. An output RC snubber network is also included for applications with highly inductive loads or noisy power lines. The CL series is RoHS & China RoHS compliant, CE certified, UL and cUL recognized.
.
Enquiry Form: http://www.epreston.co.uk/enquiries.php
Home Page: http://www.epreston.co.uk/epblog/