The new power entry modules, types 6135 and 6136, from SCHURTER combine appliance inlet and circuit breaker into one component. The two types provide a simple and cost effective means of over current protection, particularly suited for applications with motors.
The IEC C20 appliance inlet integrates the TA35 circuit breaker from SCHURTER. The 1-pole circuit breaker is equipped with a thermal trip-free release and offers current ratings from 50 mA to 16A (ENEC) or 20A (cURus).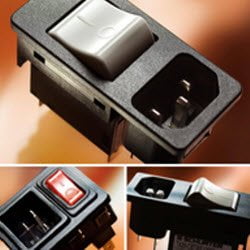 The rocker is available in various colours, legends, with or without illumination. The power entry module is arranged for cost effective snap-in mounting. Typical areas of applications are to be found in laboratory equipment, medical appliances, fit-ness equipment and ergo meters, with automatic winding and coiling devices, as well as with do it yourself machines. The product is approved to ENEC and cURus.
Technical features:
– Appliance inlet C20 according to IEC 60320 with circuit breaker TA35
– 1-pole circuit breaker
– Snap-in mounting for panel thicknesses 1.5 mm – 2.5 mm
– ENEC & cURus approvals for 16 A / 20 A at 250VAC
Enquiry Form: http://www.epreston.co.uk/enquiries.php
Home Page: http://www.epreston.co.uk/epblog/