The new KF-series features exceptionally large isolation distances and offers high AC-23A motor ratings.  It covers the range from 16A to 32A and offers disconnect capability of up to 1000V according to IEC 947.  The rotary contact system incorporated in a new type of modular contact block allows high mechanical life expectancy and precise and reliable contact making.
The innovative modular system is both simple and very safe while offering enormous flexibility.  All available modules can be combined, exchanged or added in the field, as can the very precisely working cam-operated auxiliary contacts.  The position of the various modules in relation to each other
can be defined by the user or, if preferred, preassembled in the factory.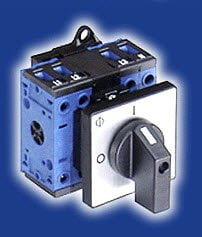 * Coupling profile determines pre-closing function of switched 4th pole,
  i.e. contact modules per se are always the same
* Rotating contact movement (instead of classical vertical lifting) allows
  big contact gaps
  high mechanical life expectancy
  very precise movement sequence
  self-cleaning contacts
  forced opening and closing of contacts
* Compact (very shallow) design
* Up to 1000V insulation voltage according to IEC possible
* Lateral drive possible (latching module not in the centre but on left or right hand side)
* Visible contacts (windows) available on request
* Design allows a big variation of terminal markings
* Removal from DIN rail can be done without tool change (screw driver for cross-recessed screws sufficient)
Enquiry Form: http://www.epreston.co.uk/enquiries.php
Home Page: http://www.epreston.co.uk/epblog/