With the newly designed G20 the "Knife contacts" have been designed in a new way resulting in a switching capacity of 20 Amps at 1000V DC (DC-22A) and high short circuit withstand capability.  Finger-proof terminals according to EN 50274 and protection degree IP20 offer maximum safety.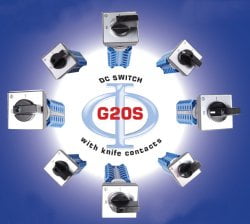 In combination with a standard latching mechanism, the G20 complies with all regulations required for main switches according to IEC/EN 60204.  In addition the G20 is also ideal for AC-applications with high short circuit fault levels, as well as electronic circuitry with low current and voltages.
Of course the G20 can also be combined with many optional extras from the Kraus & Naimer product line.
 * Self-cleaning and vibration resistant knife contacts
* Compact design
* High DC switching capacity
* Highest contact reliability (better than any H-bridge contact system)
* High short circuit withstand capability
* Finger-proof terminals (IP20) even if jumper links are used
* Terminal extensions (accessory item) for ring type cable lugs (max. width 6mm) and quick connect lugs will be made available
* Heat resistant contact system according to standard EN 12101-3
G20 – with normal latching
G20S – with snap-action latching
Enquiry Form: http://www.epreston.co.uk/enquiries.php
Home Page: http://www.epreston.co.uk/epblog/