The UPD series feature Panel or PCB mounted Single Channel, Dual or 3 Phase SSRs rated at either 15 or 25 amps per channel, 280 VAC, in either a unique compact Low Profile or Single-in-Line package configuration
Crydom, a company of Custom Sensors & Technologies (CST) and global expert in Solid State Relay Technology, introduces a new line of compact Solid State Relays for Single Channel, Dual Channel or 3 Phase operation rated at 280 VAC with either 15 or 25 amps per channel output depending upon model, available heat sinking and operational ambient temperature.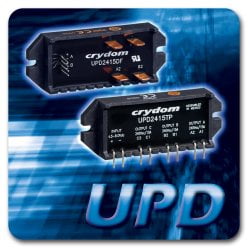 Available in either a single-in-line (SIP) printed circuit board mounted version or low profile panel mount package with .25" male quick connects, all models feature optically isolated DC input control ratings of either 3 to 32 VDC, 3 to 15 VDC or 4.5 to 8 VDC depending upon model and are available in both zero voltage and random turn on versions.
The UL approved UPD Series Solid State Relays are ideal for heating, lighting or motion control applications. The UPD's unique design with metal base plate allows for attachment to an external heat sink to achieve full output ratings in a 40 degree C ambient temperature for either the PCB mounted SIP versions or the low profile panel mounted versions. 
Enquiry Form: http://www.epreston.co.uk/enquiries.php
Home Page: http://www.epreston.co.uk/epblog/