Compact Thermal Circuit Breaker Spots Factory Mounted Protection Cover
Schurter introduces new protection covers for its popular TA35 series Circuit Breaker forEquipment. The 2-pole circuit breaker is now available with factory mounted covers in addition to its range of covers supplied separate for customer installation. Cover options include transparent cover with or without collar, or collar only. These value added features are new to circuit breaker design, reducing parts count and providing a cost savings alternative to conventional products requiring secondary steps for IP protection.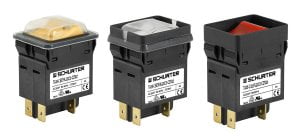 The TA35 series has a high degree of customer appeal due to its compact form and attractive design. The rocker-actuating switch functions as a switch only or with thermal overload protection. It can be supplied either with or without illumination, including the trendy blue, for a total of ten rocker colors. Various standard legends and customer specific symbols are also offered. The TA35 with IP 65 protection cover is ideal for applications exposed to dust or splashing water. Typical applications are laboratory equipment for chemical and medical applications, food processing equipment and commercial appliances, wood and masonry machines, construction site equipment, power generators and cleaning equipment. The series is designed to meet IEC 60934, UL 1077 and CSA C22.2 235 and carries VDE and cURus approvals.
Enquiry Form: http://www.epreston.co.uk/enquiries.php
Home Page: http://www.epreston.co.uk/epblog/