FMAC ECO / FMBC ECO – Cost optimized 3-phase line filters
SCHURTER presents its new 3-phase line filters, series FMAC ECO and FMBC ECO. These compact and cost optimized filters are in ECO designed and especially suited for use in drive systems, engineering installations and places where frequency inverters cause electromagnetic disturbances.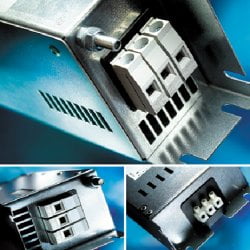 The EMC filters are arranged for use with 480 VAC installations and are available in single or two stage versions. The FMAC ECO single stage filter is available from 10A, while the two stage FMBC ECO filter from 8A. The FMBC ECO series has a leakage current of just 5 mA, making it ideal for use in installations equipped with residual current circuit breakers. The filters can be mounted lengthwise or upright which provides maximum flexibility in design. With these new 3-phase line filters, SCHURTER focuses on costs savings while efficiently solving EMC problems.
The series has ENEC approvals. Approvals to cURus have been applied for.
Technical features:
–  3-phase line filter for 480 VAC
–  Rated current range FMAC ECO (single stage): 10 – 150 A
–  Rated current range FMBC ECO (two stage): 8 – 115 A
–  2 mounting options
–  ENEC approval, UL pending
Enquiry Form: http://www.epreston.co.uk/enquiries.php
Home Page: http://www.epreston.co.uk/epblog/