Schaffner, the international leader in combining electromagnetic compatibility and power quality, launches the new compact single-phase EMC/EMI filter FN 2450. The low-leakage filter FN 2450 expands the Schaffner product offering of suppression components in plastic housings, which optimally combine innovative lightweight designs with a high level of functionality, safety and ergonomics.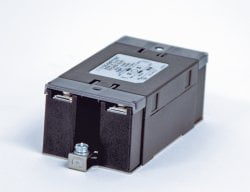 The innovative use of plastic materials and the elimination of potting compound allow a significant weight reduction, in comparison to conventional EMC/EMI component designs. The EMC-compatible HF contact to ground is ensured by a metal base plate.
Integrated terminals in the housing enable reliable contact from the top with the automatic torque wrench. Built-in safety covers, which for the purpose of installation can be easily folded forwards and backwards using a captive swivel mechanism, are provided as standard for protection against unintended contact with live clamping elements.
The low-leakage EMC/EMI filters FN 2450 are designed for rated currents from 6 to 20A (at 55°C) and for single-phase networks ≤250VAC. All versions are distinguished by minimal filter leakage current and are particularly suited for use with sensitive residual current protective devices, as well as for strict requirements with regard to operator and fire protection. The compact filters are UL, CSA and ENEC approved and comply with the requirements of the RoHS directive.
Enquiry Form: http://www.epreston.co.uk/enquiries.php
Home Page: http://www.epreston.co.uk/epblog/