IP56 or IP65 compliant: suits medical, automotive and outdoor power equipment
Cherry Electrical Products has announced a new range of sealed, waterproof rocker and pushbutton switches with a wide choice of pole, throw and switch options, making them suitable for a huge range of applications, from vehicles and outdoor machinery to medical devices.  There are eight different designs in the new product family – seven rocker switches and one pushbutton switch, all certified to IP56 and IP65 requirements for water and dust resistance.  These competitively-priced switches are available in numerous AC/DC ratings and are RoHS compliant.  
The round rocker switches, designated the KD and KC series, are IP56 rated and designed to fit panel cut-outs of 0.795in (20.20mm) diameter. The KC series has SPST function and is available with red or black actuators, while the KD series is available in two versions: DPST and DPDT.  Both are available lit if required and can handle DC and AC loadings, with quick connect 0.187in (4.76mm) terminals. Electrical ratings include 16A 125VAC, 10A 250VAC (UL), 20A 14VDC and 10A 28VDC for both series, with an additional specification of 10(4)A 250V (VDE) in the KC single pole, single throw series.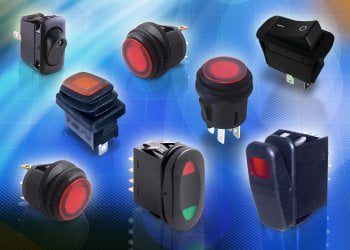 The KR series are miniature rocker switches for panel cut-outs of approximately 0.780in by 0.512in (19.80 x 13.00 mm).  Available in single pole single throw and double pole, double throw versions with 0.18in (4.75mm) quick connect terminals, the KR series has an IP65 protection rating and is available in four different AC and DC electrical ratings: 16A 125VAC 1/3HP;10A 250VAC 1/2 HP (UL); 20A 14 VDC and 10A 28VDC.
There are four different series of larger oblong rocker switches in different actuator styles, all with an IP56 protection rating and with 1.250in (6.35mm) quick connect terminals.  The KS Series, in black only, is designed for on-off or on-on functions in SPST, SPDT, DPST and DPDT versions.  The KG series is available in eight different switch functions and three different electrical ratings: 20A 125VAC; 10A 250VAC (UL) and 21A 14VDC.  All have quick connect, screw or solder terminal options.  If an application requires an illuminated switch, there are two different styles available: the KM series with an oval actuator with either red or green lenses for panel cut-outs of approximately 1.449in x 0.83in (36.80mm x 21.2mm); and the KT series for slightly smaller panel cut-outs of 1.45in x 0.60in (36.8mm x 15.2mm).
 
For applications requiring a round pushbutton solution, the KF series offers plenty of choice – it is available in five different ratings, both AC and DC, and in SPST and DPST versions.  The quick connect terminal option is 0.18in (4.75mm).  With a protection rating to IP65, the KF series is available in an illuminated version if required, to fit panel cut-outs of approximately 0.795in (20.20mm).
Enquiry Form: http://www.epreston.co.uk/enquiries.php
Home Page: http://www.epreston.co.uk/epblog/