Finder has announced the introduction of the 7P Series of Surge Protection Devices (SPD), developed specifically to comply with BS-EN62305: Protection Against Lightning, providing protection against lightning strikes, or surges caused by short circuit and contact switching in electrical systems.
The 7P SPD Series employs replaceable varistors, enabling the cost effective replacement of the active element of the SPD when required.  As Type 2 arresters for single-phase and three-phase electrical system, they will appeal to the design and manufacture of systems and electrical equipment for use in buildings, where the safety issues associated with lightning have to be addressed.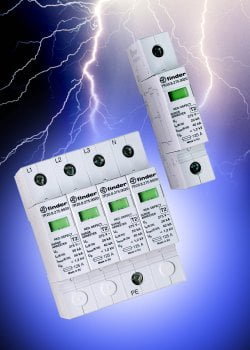 There are four versions in the 7P Series, all of which provide visual and remote signalling of varistor status, providing a clear indication to building maintenance personnel when replacement is needed.
The publishing of the BS-EN62305 series fundamentally changed the way the UK addresses the issue of lightning protection for buildings and makes the assessment of the associated risks and their mitigation a statutory requirement.
Virtually all elements of a building's structure, its electrical services and the electrical equipment within it must be considered for the risk aspects associated with the potential for lightning strikes.
Protection devices such as the Finder SPD range are employed to reduce the risk of hazards to life and physical damage to persons, reduce the risks of damage to structures and services and to minimise failure of electrical and electronic systems and equipment within the structure of a build.
Finder's 7P series is available in 4 different versions:
Single-phase systems:
7P.21.8.275.1020 Varistor protection (L – N)
7P.22.8.275.1020 Varistor protection (L – N) + spark gap
protection (N – PE)
3-phase systems:
7P.24.8.275.1020 Varistor protection (L1, L2, L3-N) + spark gap protection (N- PE)
7P.25.8.275.1020 Varistor protection (L1, L2, L3 – N) + varistor protection (N-PE)
Enquiry Form: http://www.epreston.co.uk/enquiries.php
Home Page: http://www.epreston.co.uk/epblog/