Wieland Electric has just launched an addition to its revos FLEX modular hybrid connector system, the RJ45 module.  Revos is a range of industrial multi-pole connectors.  It is also possible to transmit optical signals and connect compressed air hoses – all within a die-cast aluminum housing design.  The RJ45 module comes fully pre-assembled and is able to connect Ethernet cables.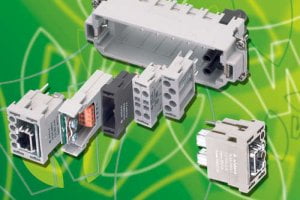 The RJ45's outer connections are implemented with standard female connectors and the inner section contains two USB connectors of type B, this ensures that improper contact between the internal connectors is avoided.  Revos FLEX has the option of four different frame sizes with two, three, five or seven module slots which can be inserted into the standard aluminum  die-cast housing of revos BASIC in size six through 48.
The module also has 28 different inserts for currents ranging from 1A to 82A and voltages up to 5.5kV which ensures the system can be used in a variety of applications.
Enquiry Form: http://www.epreston.co.uk/enquiries.php
Home Page: http://www.epreston.co.uk/epblog/