The latest addition to Bulgin's waterproof Ethernet Buccaneer connector system is a new EMI shielded backshell.
While Ethernet Buccaneer is a fully shielded system, the plastic panel connector, PX0833, does not have a natural bond or earth path to a metal chassis. The PX0833/E provides one solution with a short earth lead but there are occasions where complete shielding is required. This new metal backshell, PX0888, fits around the connector to provide a complete 360 degree bond to the panel therefore closing any potential EMI/RFI windows.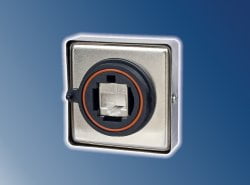 Assembly is very straightforward; the screening can fixes to the rear of the panel using the existing connector panel nut and a cover provides continuity between the connector screen and the can.
This simple accessory maintains screening directly to panel so will eliminate any potential EMC issues when using a plastic connector in electrically noisy environments.
Along with the recent introduction of two panel mounting connectors with PCB and IDC terminations this new shielding backshell further expands the uses of this popular IP68 rated Ethernet connector range.
Enquiry Form: http://www.epreston.co.uk/enquiries.php
Home Page: http://www.epreston.co.uk/epblog/