The latest addition to Bulgin's extensive range of Vandal Resistant Stainless Steel Switches is a new double-pole version.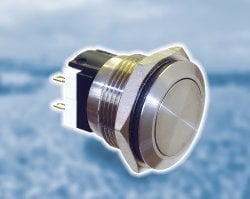 Rated at 3A 125Vac, the new MPD031 has double pole changeover switching. The switch retains the same rugged construction as others in the range, the barrel and button are CNC turned from high grade stainless steel to produce a very strong, rugged switch capable of withstanding abuse. Three profiles as are available; low profile, prominent and domed, and the switch is front panel sealed to IP66.
The panel cut-out, 19mm diameter, and external dimensions remain the same as the single pole MP0031 making the MPD031 suitable as a drop in replacement, therefore it is ideal for applications where more complex switching is required but without taking up any more real estate on the panel.
Enquiry Form: http://www.epreston.co.uk/enquiries.php
Home Page: http://www.epreston.co.uk/epblog/