Patent-Pending Design Allows for True Plug-and-Play Installation
Honeywell introduced an adapter for limit switches with 20mm thread conduit openings. When purchased as a pre-installed accessory on a Honeywell MICRO SWITCH limit switch, this patent-pending adapter is ready to mount and plug into a Deutsch DT4 mating connector.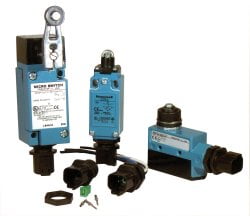 Typical installation time for limit switches includes as much as three minutes to wire a standard-type switch. The plug-and-play adapter may realize cost savings in reducing installation time, minimizing down time for switch replacement, or by eliminating additional parts normally associated with the assembly of a pigtail connector.
The accessory also is available as an adapter kit containing individual parts ready for assembly or as an adapter assembly pre-wired with four lead wires. Both options may provide cost savings over standard installation. Potential applications include aerial/scissor lifts and cable-to-cable applications in off-road, agricultural and construction equipment.
Enquiry Form: http://www.epreston.co.uk/enquiries.php
Home Page: http://www.epreston.co.uk/epblog/