Bulgin's waterproof USB Buccaneer connectors are being employed in many different areas and applications, with one of the most prominent as a data 'downloading' port.
In this application the panel connector is not always used with a mating connector, instead a USB Flash drive is connected to input or extract data from the equipment.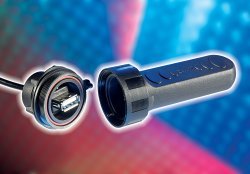 Some applications warrant the Flash drive being left in-situ, but this can compromise the integrity of the equipment's environmental sealing characteristics. To overcome this Bulgin have a developed an extended cover that will maintain the IP68 sealing of this interface whilst the Flash drive remains connected. The cover is suitable for use on all Buccaneer USB 'A' type connectors: PX0842/A, PX0843/A, PX0845/A and PX0849/A.
Designed to accommodate a wide variety of USB Flash drives this simple accessory will find many uses where transportation of data and sealing integrity of the equipment are important considerations.
Enquiry Form: http://www.epreston.co.uk/enquiries.php
Home Page: http://www.epreston.co.uk/epblog/