Positive Break Enhances Safety in Hazardous Environments
Honeywell introduces its MICRO SWITCH™ GSX Series Explosion-Proof Safety Switch. The GSX Series combines world-class MICRO SWITCH™ global limit safety product (GSS) with an explosion-proof housing from Honeywell's LSX and BX product lines. The GSX Series Safety Switch platform provides over 10,000 actuator and switching option combinations and can be applied to machine safety in hydrocarbon refining, chemical process, grain elevators, other agricultural or food processing equipment.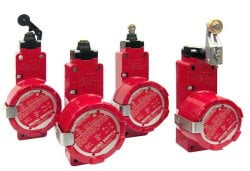 The GSX switch can be applied to a gate, cage or access panel that is positioned as hard guarding to a dangerous machine so that, when opened, the machine stops. Explosion-proof safety switches are required on machinery found in hazardous locations, where hazardous gasses or dusts could cause an explosion. The positive break mechanism will ensure that even welded contacts will open and the machine will stop in an emergency. The positive break feature is designed to provide a safe failure mode, ensuring the machine will not start, and therefore supporting a safer working environment.
Enquiry Form: http://www.epreston.co.uk/enquiries.php
Home Page: http://www.epreston.co.uk/epblog/