Schurter has created the latest addition to the existing snap-in front panel mount circuit breaker. The popular fuse holder style, single pole thermal circuit breaker series T9 is now also available with threaded-neck and snap-in versions for rear mounting. The threaded-neck type is available with an IP 65 rated cover, which provides protection against environmental conditions such as dust or jetting water. Its tripping operation is cycling trip-free.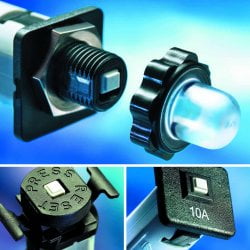 Circuit breakers with the fuse holder style body are ideal substitutes for panel fuses where inrush currents cause nuisance trips, or aging of the fusing element overtime. Resetting the circuit can avoid unnecessary downtime and maintenance costs associated with replacing fuses. Improper replacement with the wrong current rating is also prevented. The circuit breaker button extends to indicate when the circuit is interrupted. The button returns to depressed status when pushed-to-reset.
Typical applications include power supplies, UPS, PDUs, power tools, industrial appliances, medical diagnostic and analysis appliances, lighting, sports and hobby machinery or HVAC. The T9 series meets UL standard 1077 for Supplementary Protection, CSA C22.2 235, IEC 60934 and GB 17701. Current ratings range from 4 – 16 Amps at 240 Volts AC and 48/32 Volts DC.
Enquiry Form: http://www.epreston.co.uk/enquiries.php
Home Page: http://www.epreston.co.uk/epblog/