Bulgin is proud to announce two new ranges of pushbutton switches for industry standard 16mm diameter panel holes.
The first of the new range is a compact switch extending less than 21mm behind the panel. These single pole, momentary, push to make switches are rated at 2A, 48Vdc and are capable of 100,000 operations at full load and 1,000,000 mechanical operations. There are three button styles; flush, domed and prominent, and all switch variants have screw terminals. The MP0042 is manufactured in stainless steel with a polished finish. The MP0044 is manufactured in gold plated brass to give an extra touch of quality. These attractive switches will find themselves at home on panels and equipment where a robust and but aesthetically pleasing switch is needed.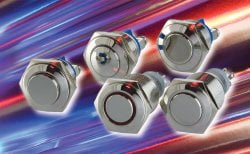 The second range of 16mm stainless steel switches also have a polished stainless steel finish. They are slightly longer behind the panel but boast many more features. Rated at 3A, 250Vac and capable of 30,000 cycles at full load and 200,000 mechanical cycles, these switches are robust enough for manyFORMATION demanding applications. The MP0045 series have double pole switching with momentary or latching operation, and solder tag termination. The two styles of buttons, flush and protruding, are also available with dot and ring LED illumination. Standard illumination colours are amber, blue, green and red, and integral resistors allow operation from a 12Vdc or 250Vac supply.
——–>  Technical Data Sheets   16mm Stainless Swt ds.pdf
The extensive list of variations for these switches will allow their use in many applications where an attractive but robust small diameter switch is required.
Enquiry Form: http://www.epreston.co.uk/enquiries.php
Home Page: http://www.epreston.co.uk/epblog/