E-T-A Circuit Breakers has introduced a new electronic flow monitor, the E-T-A FS30. Rugged, cost-effective and easy to install, it is ideal for water conserving irrigation systems for agriculture, golf courses and sports grounds, as well as for water management in industrial systems, residential buildings and passenger trains. Solid-state electronic circuitry and no moving parts ensure precision, long-term reliability and repeatability.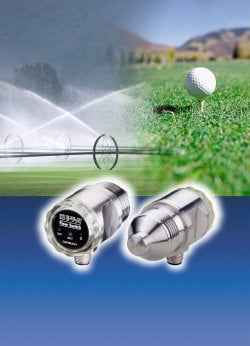 The new E-T-A FS30 Electronic Flow Monitor incorporates a robust, membrane-type sensor which will monitor flow rates from 0.25m/s to 3m/s. As soon as the flow rate falls below an adjustable, pre-set MIN value, the FS30 provides a 500mA transistor output signal which is both short-circuit and overload proof. This signal may be used for further processing via a controller, or can be used as a command signal for indirect switching of a pump or similar equipment. Visual status indication is provided by two front-mounted LEDs.
The FS30 features an IP67 stainless steel housing and requires a 12V DC supply voltage, making it ideal for outdoor, solar-powered applications. Electrical connectivity for power and signalling is via a standard M12 plug-in connector. With a standard threaded fixing, it is easy to install in the field to existing infrastructure. Other liquids, with similar thermal conductivities to water, may also be monitored. The liquid temperature can be between +1°C and +70°C, while ambient temperatures can be in the range of -15°C to +55°C.
Enquiry Form: http://www.epreston.co.uk/enquiries.php
Home Page: http://www.epreston.co.uk/epblog/