Finder has announced the launch of a new series of safety relays that have been specifically designed to meet the increasingly stringent safety standards now being imposed on designers and manufacturers of electrical systems. They are particularly suited to applications such as plant, process and machine guarding, safety circuits, emergency stop circuits and critical monitoring circuits.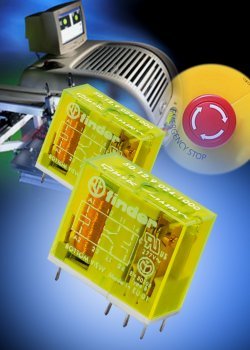 The 50 Series relays are pin-compatible with the existing 40 Series, and feature forcibly guided contacts that enable positive monitoring of the contact state to comply with EN 50205 type B. They have also been designed to meet the requirements of IEC 62061 (2005): Safety of machinery – Functional safety of safety-related electrical, electronic and programmable electronic control systems, and ISO 13849-1: Safety of machinery – Safety-related parts of machinery.  A high physical separation ensures a minimum of 2.5kV insulation between adjacent contacts
The relays are rated for a maximum contact current of 8A and for DC coil voltages ranging from 5V to 125V, thus providing considerable flexibility for circuit designers.
Enquiry Form: http://www.epreston.co.uk/enquiries.php
Home Page: http://www.epreston.co.uk/epblog/