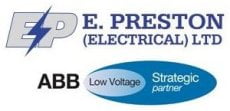 Dear Valued Customer,
As you know at E. Preston (Electrical) Ltd, we pride ourselves on being an 'ABB Industrial Partner' with expertise in safety systems, inverter-drive technology, factory automation and sensing and detection. Whether you require a single item to a full turn key solution- we can provide you with full application support.
As well as our dedicated experienced staff we now also have a NEW totally web based support tool available to all of our customers- the ABB industrial partner website.
From this website our customers have full access to a number of useful tools and features which will allow YOUR business to be more efficient and productive.
Features on the ABB Industrial Partner website include,
•  Customer competitions and promotions,
•  Direct links to the ABB product library allowing technical documents and data sheets to be downloaded in PDF format,
•  New product news and cutting edge technology developments,
•  Key national and regional contacts within the ABB Industrial partner network as well as direct contact details for ABB personnel,
•  Value added services such as support and installation,
•  Useful links to external websites that give you crucial information on how to make your business ahead of the game,
And much, much more…
We invite you to access this invaluable resource and see exactly what is on offer on the ABB Industrial partner website by Visiting: http://www.abbsip.co.uk
Best Regards
The E. Preston Electrical Team.
Enquiry Form: http://www.epreston.co.uk/enquiries.php
Home Page: http://www.epreston.co.uk/epblog/