Schurter's new TF600 non-resettable fuse assists manufacturers of telecommunications equipment in meeting power cross and lightning surge requirements outlined in North American standards Telcordia GR-1089, TIA-968-A (formerly FCC Part 68), and UL 60950, as well as the international standards ITU-T K.20 and IEC 60950. The fuse has a rated breaking capacity of 60A at 600 Volt AC, over a current range of 0.5 – 2 Amps.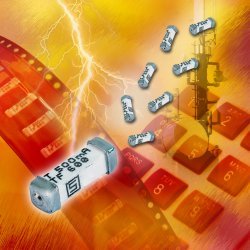 The TF 600 is RoHS compliant according to Directive 2002/95/EC. Its low profile and small footprint conform to industry norms for size, placement and process compatibility. Its time-lag tripping characteristic provides reliable secondary protection of secondary circuits in a variety of telecom systems and networking equipment designated for use around the world. Typical applications are customer premises equipment (CPE) like telephones and modems, high-speed transmission equipment like ADSL modems and splitters and analog line cards (SLIC's).
The TF 600 is built to UL 248-14 and carries UL/CSA recognition.  It also holds a "Free of CCC" confirmation for China. It is supplied either on tape (2000 pieces) or loose in a bag (100 pieces).
Enquiry Form: http://www.epreston.co.uk/enquiries.php
Home Page: http://www.epreston.co.uk/epblog/