Schurter has expanded its popular stainless steel MSM series with the addition of a 30 mm diameter switch. The current product line is already available in 16, 19, and 22 mm mounting diameters. The new MSM30 offers the same robust characteristics as its smaller counterparts, only it has a larger, ergonomically designed, actuating area for superb tactile feel. Actuation force is 4.5 Newtons, and contact travel is only 1 millimeter with a fixed stop accompanied by a pleasant audible click. The MSM series provides maximum switching power over a voltage range of 5 V DC to 250 V AC and a current range of 0.1 – 10 amps. Switching action is single-pole, momentary with N.O. and N.C. contacts available.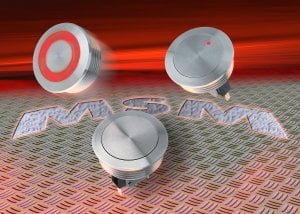 Built for tough environments, the MSM carries a water-resistant rating of IP 67, making it ideal for use outdoors, or in equipment exposed to the liquid spills, drips, leaks or wash-downs. A shock resistant rating of IK 07 makes it ideal for use in environments where the switch can be subject to heavy use or impact. The switch can also operate under varying temperature conditions as low as -25 and as high as 85 C. A flat front construction of only 1.7 millimeters provides a nearly flush mounting to the panel surface, which makes it less conspicuous and therefore less likely to be knocked or battered from the side.
These new MSM30 is ideal for systems where a large actuating area is required for operation, such as information, security and vending systems. Wiring is via quick connect terminals.  Assembly includes pre-wiring of the contact module, which is then snapped onto the actuator housing.  Point and ring illuminated versions of the MSM are available for applications where optical status indications are desired, such as dark conditions or disability access systems.
Enquiry Form: http://www.epreston.co.uk/enquiries.php
Home Page: http://www.epreston.co.uk/epblog/