The 7E Series single phase kWh totalising meters from Finder have been designed for the measurement, recording and display of individual energy consumption for loads drawing up to a maximum of 65A.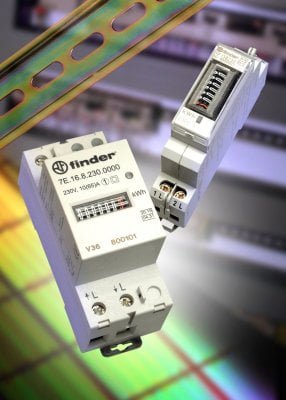 The meters are targeted at applications in residential, commercial and industrial  installations where the consumption of energy needs to be measured or monitored.  This might be either to assist in meeting government targets for reduced emissions by minimising energy consumption, or to allow metering of locally billed electricity supplies. Typical areas of use might include test laboratories, the individual monitoring of machines, control cabinets and switchboards, in battery charging equipment, or for hook-up supplies to campers, caravans and boats.
The meters can be DIN rail mounted, and can easily be installed in a standard consumer unit. A high resolution pulsed open-collector output allows accurate remote monitoring.
The two models in the series, the 7E.13 and 7E.16, are rated for maximum current levels of 32A and 65A respectively, for a supply voltage of 230V AC at 50Hz. The display counter features a 4mm high, 7-digit display with a red decimal digit, giving a maximum totalising count of 999,999.9kWh. Both models have a maximum resolution of 100Wh, and their accuracy is specified as Class 1 (±1%). Rated power is 8VA and the AC operating range is 0.8 – 1.15 of nominal voltage.
The meters are housed in compact industry-standard packages with simple direct wiring connections. They are PTB approved in accordance with EN 61036, and carry CE type approval for EMC.
Model 7E.13 is a single unit width (17.5mm) with the digits arranged vertically, while 7E.16 is double unit width (35mm) and has a horizontal digital display. Both models feature a flashing red LED as a quick visual indication of operational status.
Enquiry Form: http://www.epreston.co.uk/enquiries.php
Home Page: http://www.epreston.co.uk/epblog/