New from Finder is the 46 Series miniature industrial relay range. The 46 Series has evolved from the successful PCB mount 40 Series, and provides both single-pole and two-pole contact configurations for use in control panels and systems. The key characteristic of this new range is its full terminal compatibility with a widely used but single sourced de-facto industry standard. The Faston spade/blade terminals provide secure and reliable connections between the relay and the associated 97 Series socket, over and above that achieved by its predecessor.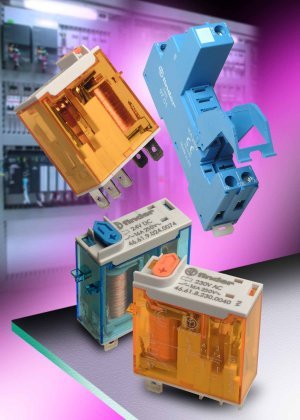 Says Finder's Sales Manager Ted Waller, "This type of relay with spade terminals has been primarily single-sourced until now. The introduction of the 46 Series provides the customer with a real choice, offering a higher current rating than the competing product, and a unique range of optional plug-in modules for greater functionality that is not available elsewhere"
The 46 Series relays are available with either AC or DC coils, and benefit from a host of advanced features and options, including a mechanical flag indicator and manual test button that can be used in momentary or latching mode – useful during commissioning, fault tracing and override situations.  A version with LED indication is also available.
The 46.52 relay has a two-pole changeover (DPDT) configuration and a maximum rated current of 8A, while the single-pole changeover (SPDT) 46.61 model is rated at 16A maximum.
The associated 97 Series rail mounted sockets feature a flip-out retaining and release clip for easy removal of the relay. Uniquely these sockets accept an extensive range of time-delay, coil indication and EMC suppression modules and an 8-way jumper link that reduces the time taken to wire common connections.
As an alternative to using the rail mounting socket the relay can be secured by an optional flange-mount bracket allowing direct mating with Faston connectors.
The terminal arrangement and pitch of the 46 Series are fully compliant with existing relays of this type, and the new relays can be used as a drop-in replacement for industry standard products.
Enquiry Form: http://www.epreston.co.uk/enquiries.php
Home Page: http://www.epreston.co.uk/epblog/