The FireWire Buccaneer provides a high degree of environmental sealing for FireWire connections using standard IEEE 1394a interfaces with data rates to 400Mbs. Dust & waterproof to IP68 the connector system is ideally suited to industrial or hostile environments where a digital high data rate combined with a robust and secure connection is required.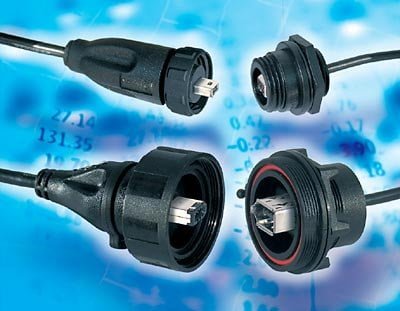 Originally designed for office bound multimedia type equipment such as camcorders, computers, video cassette recorders and digital audio workstations it has found its way into scanners, web cams, external hard drives and external optical devices. But the 'real-time' ability for bi-directional, multi-speed data transfer on the same single network connection provides a truly universal connection for almost any consumer or commercial peripheral application.
This flexibility has now moved from the home into industrial environments where hazards of water and dust are present. The new FireWire Buccaneer connectors meets this challenge. The screw coupling thread ensures a vibration and shock resistant connection, while sealing caps maintain the IP68 rating of the connectors when not in use.
Cables are of over-moulded construction, available in 2m or 4m lengths as standard, they provide secure tamperproof connections between sealed and un-sealed 4 & 6 pole interfaces.
Chassis mounted connectors are terminated with adaptor leads for connection onto PCB's.
Features include:
Dust & Waterproof to IP68
4 & 6 pole versions
Data rates up to 400Mbps
Cable configurations to 4m length
Panel connector has lead for PCB termination
Screw coupling for secure connection
Temperature range: 0degC to +70degC
Sealing caps to maintain IP68 rating
 
Enquiry Form: http://www.epreston.co.uk/enquiries.php
Home Page: http://www.epreston.co.uk/epblog/