Crydom the leading manufacturer of Solid State Relays (SSR's) has launched a completely new range of microcontroller based devices. The MCTC is a self contained temperature controller in a single industry standard panel mount package.
The series combines all the necessary functions to accurately regulate temperature. With a simple set up procedure, they provide accurate control for designers for heater and cooling loads of up to 90A AC.
The MCTC requires a non-regulated low drive current DC source (10-32Vdc, 32mA max). The devices have an internally compensated thermocouple input, set to accept J or K types. Five available temperature ranges offering heating control over 37°C to 590°C and an inverse function for refrigeration down to –73°C. Setpoint adjustment is achieved by either low voltage dc or 4-20mA inputs. There is also separate enable/disable input to switch the load.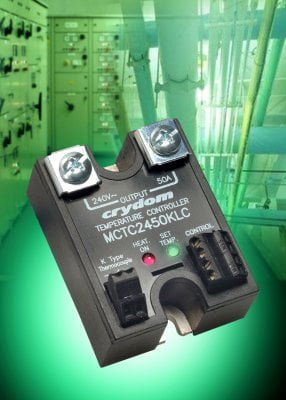 Integrated zerocross burst firing and proportional derivative control avoids setpoint overshoot. Operators can easily see the controller's status with separate LED indication for setpoint condition and output status. Load voltage switching can be either 280Vac or 480Vac suitable for both single and three phase systems. Connections are simple screw connections both control and load side. The industry standard package makes it suitable for Crydom's range of heatsinks.
Enquiry Form: http://www.epreston.co.uk/enquiries.php
Home Page: http://www.epreston.co.uk/epblog/